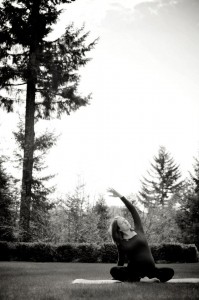 Five Reasons to Practice Prenatal Yoga
Help balance the muscles that support your pelvic floor.
There are a whole network of muscles and tissues that help to support your pelvic floor. Throughout our lifetime, physical habits (such as crossing the legs when sitting, and sitting with a tucked pelvis), activities with repetitive motions (running, skating, cross-country skiing, etc), and injuries can cause imbalances in these muscles. Instilling body awareness, and balancing certain muscle groups through both release and strengthening are helpful to the pelvis and specifically the pelvic floor, and encourage a favourable environment for your baby to engage.
2.    Learn and practice movements and postures geared specifically toward easing common discomforts of pregnancy.
As your baby grows and your uterus expands, there are some very noticeable and sometimes tender postural changes in the body. A hormone called relaxin also makes your connective tissue more elastic which can lead to more flexible joints and a need for stability. Add to this, the weight of growing breasts, and you've got a combination that could really use some yoga! Prenatal Yoga classes are designed with the changing pregnant body in mind. All postures are safe and beneficial for pregnancy.
​   3.    Connect with other pregnant women in the community.
A common thread I hear from Moms with babies and young children is that trying to make new friends as a new parent is quite a bit like dating. You scope out another Mom with a similar aged child from across the room/park/store/etc and try to work up the courage to go and talk to her. Why not start building your community before baby arrives? Prenatal Yoga classes host women from all walks of life and there's always a bit of time before and after class to socialize (and in the case of Breathe Into Being, a coffee shop right next door). You're bound to make a buddy or two.
4.      Learn helpful tools for your labour journey.
A good prenatal yoga class will incorporate movements that will transfer into your labour experience really nicely. The more you practice a technique or movement, the more likely you are to use it. Classes will also involve breath work, pelvic floor awareness, and visualizations that are helpful tools to have in your mental labour bag.
5.      Time to focus on yourself and connect with your baby.
Having a designated time to slow down and tune into your body as well as your baby is incredibly powerful. If you are a second or third time Mom (or more!) you'll really get this point. I've had Moms feel their baby kick for the first time in class. I've had Moms come specifically for some quiet time away from a busy household. I've had many Moms coming to their first ever yoga class as a pregnant student, and I've had experienced yoginis with longstanding practices. Whoever you are and whatever your reason for coming, you'll certainly find benefit in having 75 consecutive minutes doing something positive just for you (and the baby you're growing).
Samantha Strange is a certified Prenatal Yoga instructor and Lamaze Birth Educator
click here for upcoming classes
You can find her here:
http://www.breatheintobeing.org
https://www.facebook.com/Breathe-Into-Being-Yoga-and-Perinatal-Services
Contact:
604.855.8265
email: [email protected]